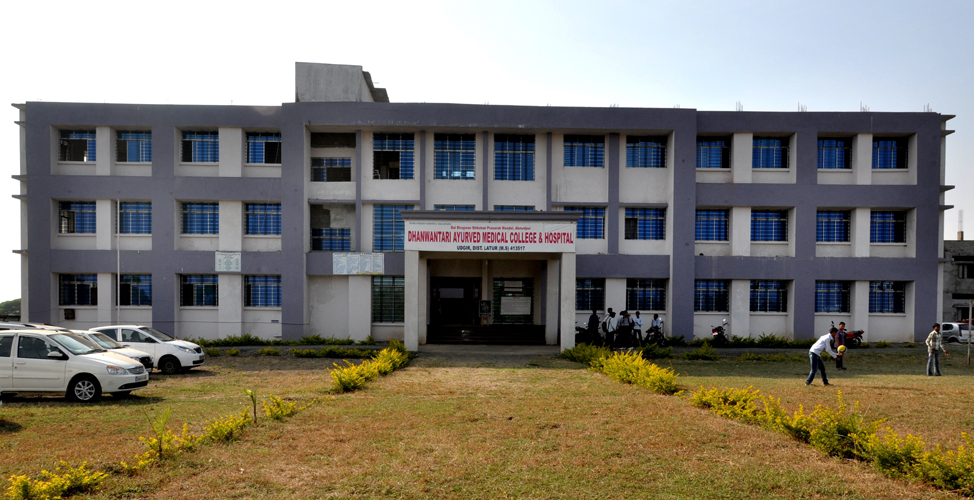 Dhanwantari Ayurved Medical College & Hospital is located at a serene place in historical city of Udgir, Maharashtra. It was founded in year 2000, under the aegis of Bal Bhagwan Shikshan Prasarak Mandal, Ahmedpur. Dhanwantari Ayurved Medical College & Hospital is envisioned to propagate Ayurveda in rural area. It has been serving thousands of patients in the nearby region and also makes available authentic Ayurvedic treatment facilities for patients. We have trained over 400 Ayurveda graduates till date.
Our institute strives to provide all the latest facilities, learning aids and infrastructure to the students according to norms and guidelines set by CCIM, New Delhi and MUHS, Nashik. It includes classrooms equipped with audio-visual tools, digital library with more than 10,000 books, various laboratories and tutorial rooms furnished with several kinds of instruments and equipment.
Campus of our institute sprawls over a vast area of 7 acres. It includes College building with different departments and classrooms, Hospital building with OPDs, IPDs, Operation Theatre, Diagnostic laboratories and pharmacy. It also includes a verdant herbal garden over an area of 7000 sq.m. which includes more than 260 species and about 850 plants. Some rare medicinal plants are also cultivated and preserved. Campus includes a pharmacy which produces Ayurvedic medicines required for hospital.